Natural Light Portrait Photography Workshop @ Chennai [May 11,12]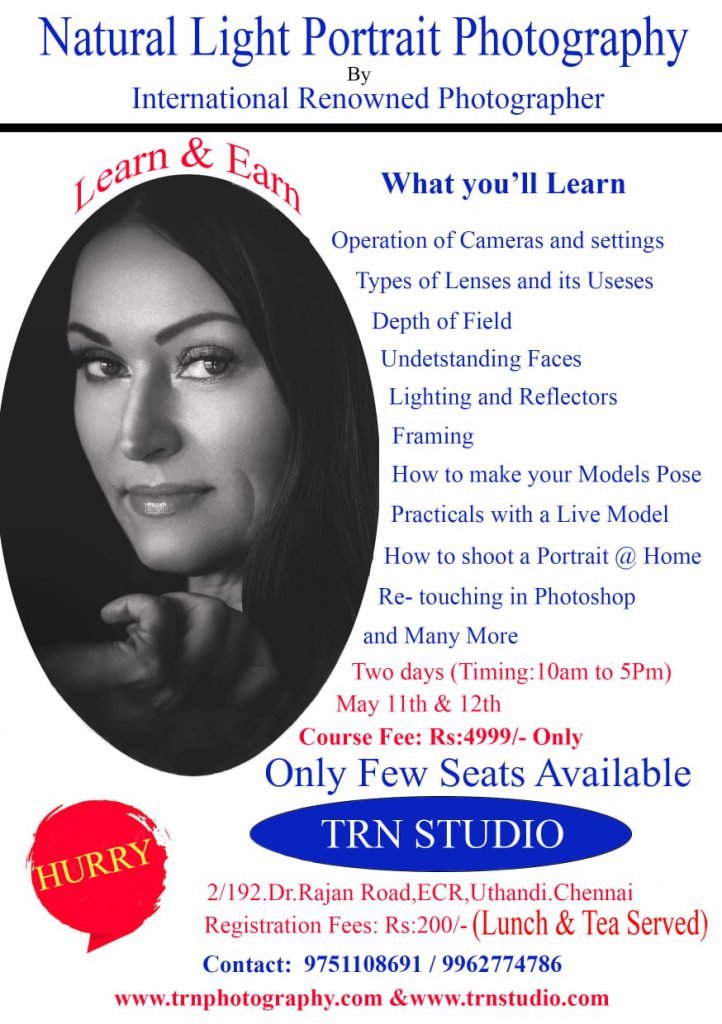 One of my Instagram friends is organizing a photography workshop on the topic, 'Natural Light Portrait Photography' at his own studio located in ECR, Chennai (Near toll gate). So I thought why not publish a blog post and spread the word…
I had an opportunity to visit his photography studio recently and I was quite impressed with the facilities available there. It's a spacious studio with a total built-up area of 2100 sq. feet with a mezzanine floor, dressing rooms, air conditioning, power backup, and other facilities.
It is possible to take large vehicles like SUVs, Vans, Cars, etc. inside the studio for product photography. In fact, he showed me the photo of a huge tractor that was brought into his studio via a separate entrance.
The instructor has more than 25 years of professional photography experience and he showed me his portfolio – photos taken by him arranged in wedding album style. He has experience not only in portrait photography but also in other areas like industrial photography, food photography, automobile photography, etc.
Some of his portraits were really stunning – to say the least. I am no photography pro, but I feel great photographers know how to handle and control the light that falls on the subjects while amateur photographers try to control the camera settings. Of course, camera settings do enhance the shots a bit but there are other important factors like positioning, angle, background, tone, etc.
I feel, the most important aspect that makes a great photo is LIGHT.
If you aspire to become a professional photographer, especially in the fashion industry, it's important to learn how to stand out with your craft and develop a unique style. While the latter comes with experience, the former is where professional trainers can help. That's why you should try to attend photography workshops like these and invest in your own skills.
I myself am a video editor, not a photographer or designer. But I am currently doing a course on graphic design. Only if I get the basic graphics right for an ad, I can add motion to it and create good motion graphics – right? That's why I think it's important to learn the basics, that too from multiple fields that intersect with yours.
What you learn will differentiate you from the various other DSLR camera owners who claim to be professional photographers. If you are still on the fence about joining, have a look at the instructor's website which includes his bio and sample shots.