Oruvanuku Oruthi Tamil Short Film Review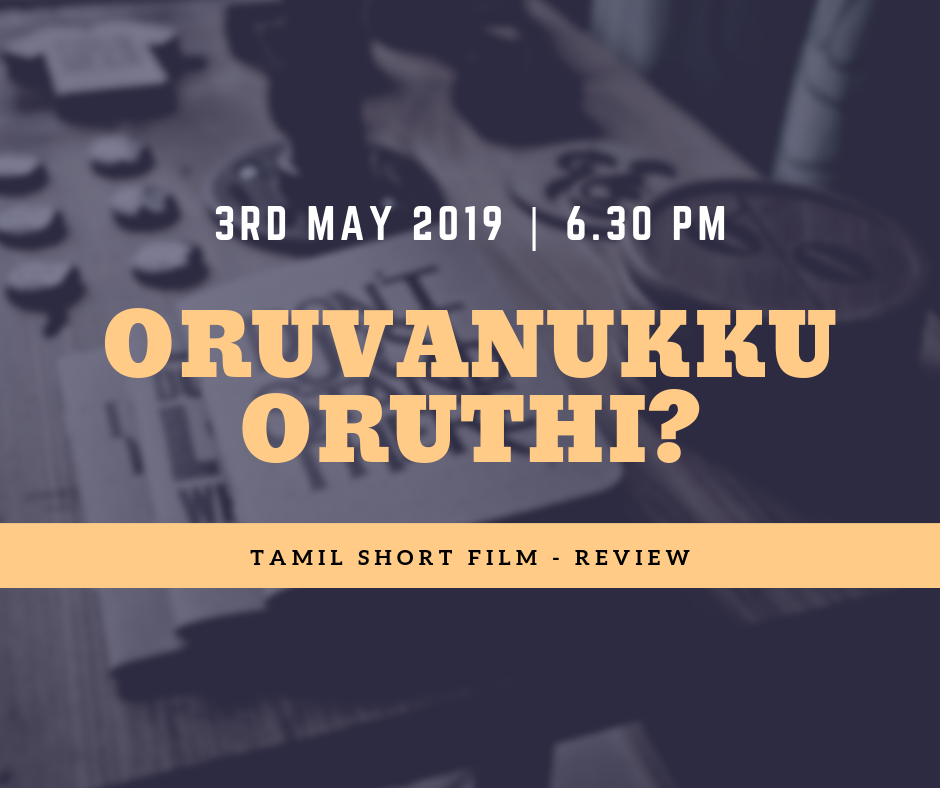 Today I was invited for a Tamil Short Film screening – Oruvanukku Oruthi, at Prasad Labs/Studio, Saligramam, Chennai. This 20-min film has been directed by Vimal Santiagu. The main (and only) characters were played by Regin Rose and Tamilarasi.
This movie is about complexity in relationships. How would one man and one woman, both LGBTQ, react when brought together (forcefully) by the traditional system of arranged marriage? They are not married yet – their families are looking at them as a prospective couple.
So the guy goes to the girl's house for 'Ponnu parkum Sadalam'. The conversation between them forms most of the movie.
What I liked about the movie is the realistic action of the two characters. And keeping the remaining characters in the background except for their voice. Simplicity and focus was definitely a plus.
What we saw on the screen was just the top layer. I guess there were many layers within each character which was surfacing during the conversation, but more evident during the discussion with the director who revealed that not all that was conversed was intended to be true. Isn't it rare for people meeting for the first time to speak the truth?
Thankfully, the movie wasn't judgemental. What I meant was, it did not glorify LGBTQ for the sake of it. Most other movies, including the recently released Super Deluxe, are hell bent on justifying the actions of that community and tailor the story to suit this theme.
Fortunately, this movie allowed the story to flow freely. I wish it was longer and showed the complexity between the two characters and the resulting conflict/resolution (if any). I prefer movies to be more complete, but directors may have their own stylistic choices.
Lack of unnecessary dramatization and 'commercial' elements was another plus. But the movie was more like a prequel – a starter. As a viewer, I would like to see more greys and a more complete movie.
The creators plan to release this movie on Youtube soon. I will try to update this blog post with the Youtube link when I get it.
Update – I have embedded this Tamil Short Film below as it has been uploaded to Youtube.
Do see and encourage alternative movies. These are the ones that attempt to touch our soul, unlike most mainstream movies that are made just to entertain the audience.