Online Millionaire Summit 2020 – Make Money Online & Grow Your Business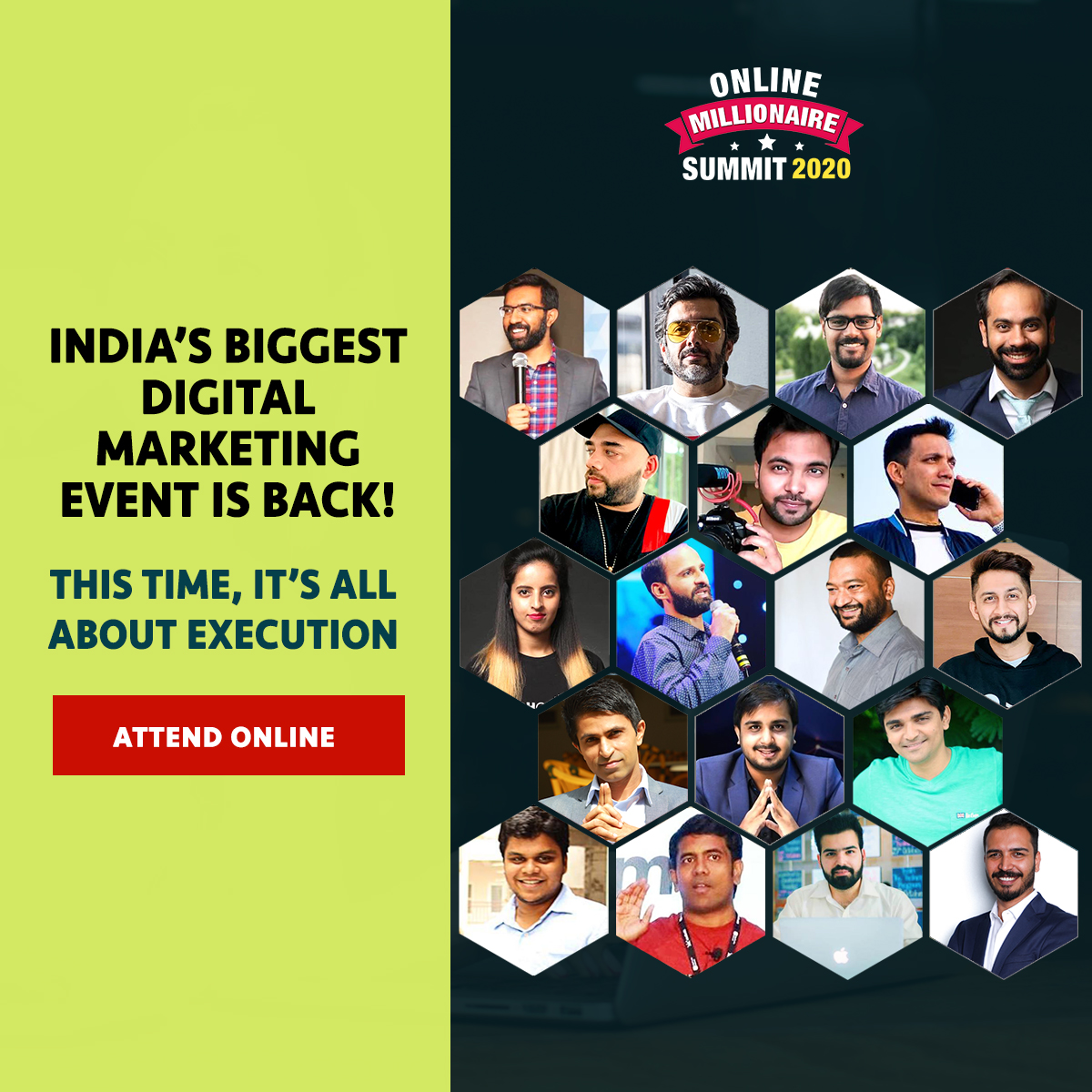 The Online Millionaire Summit 2020 early bird ticket sales is now LIVE. Click here to see the details and book tickets.
This year, 30 of India's Top Digital Marketing Experts were challenged with a unique situation >
What would be your 30-Day plan if you have to restart your business NOW?
You'll get access to video/audio/text with all the answers for the above question from experts in a multitude of industries related to making money online & growing a business online.
The access to OMS 2020 Content will be available only from Apr. 14, when the event is officially opened. Until then, you can access all the previous year's content from OMS 2019. So one ticket gets you access to both.
This is an online event, so you can consume all the content on your laptop/phone from your home or anywhere else, over the Internet.
The experts are from the following fields,
Blogging
Affiliate Marketing
Facebook Advertising
Video Marketing
Digital Marketing Agency
Personal Branding
E-Commerce
Drop-Shipping
Print on Demand
Marketing Funnels
Online Courses
Freelancing
Youtube/Social Media Influencers
LinkedIn Marketing
Growth Hacking
Make sure to book early in order to get the lowest price for the tickets.
. Click here to see the details and book tickets.
Disclaimer: The above is an affiliate link. If you click and buy tickets through that link, I may get a small commission. Please be sure that I recommend only those resources that I have personally bought myself and provides good value for money.
Since buying this year's pass (OMS 2020) makes all the videos recorded last year (OMS 2019) available immediately, here are a few key points I have learned –
When we browse Facebook and come across an ad, we could click on 'Why Am I seeing this Ad' among the options available on the top right corner. There we'll see the targeting criteria used by the advertiser. The more we see, the more we learn.
Releasing an ad with just a graphic and expecting them to Buy doesn't work. You need a landing page and a 'marketing funnel' based retargeting mechanism for people who have interacted with your creatives.
People look for a lot of info before buying – hence you need to give all that information in one landing page/video (or) retarget the users and send them the info step by step. Cold traffic needs warming up before you can sell to them.
Installing Facebook pixel on your website will enable you to retarget people who have interacted with your website in some way, through Facebook ads.
This section will be continuously updated as and when I come across useful tips while watching these videos.